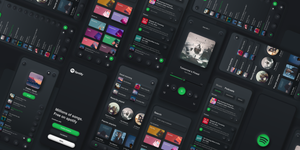 Spotify Playlist
Placements
Where to start
Playlists are the most direct way to reach new listeners on Spotify. The data that you receive from the fans on Spotify will help you pin-point your target audience and make your marketing efforts on other platforms much more effective.
De Novo Agency
100% Verifiable Streaming
Pin-point your target audience and work toward Algorithmic Activation on Spotify!
See how it works
★★★★★

I had an insightful consultation call the guys at De Novo. Their advice really helped me put together my own marketing strategy.

Tristan Dobson

Florida
★★★★★

Industry professionals without a doubt. Their level of importance and detail they place on their work is unmatched.

Josh Gluck

Florida
★★★★★

This is absolutely the best marking team any artist can have my first time was a great experience and from that day I never looked back.

Sleepy Da Hitman

California
★★★★★

Every single time I use one of their services the results are phenomenal. I have been working with them for over a year now and I will continue to do so.

Tahir Abdussamad

Delaware
★★★★★

I highly recommend taking advice from De novo on how you should begin/continue the process.

KRock the Indigo

Florida
Yes! We know that music marketing services have a notorious history, to say the least. This is why we guarantee that all of the streaming activity generating from the playlists in our campaign will be 100% verifiable in your Spotify for Artists and on your music distributor. 100% verifiable data 100% of the time.
The truth is, NO ONE can guarantee that an audience full of real human beings will listen to your song an exact, or estimated, number of times.
On Spotify, a listener must listen for at least 30 seconds in order to count as a stream.
Generally, a company that guarantees an amount of streams in their campaign is a red flag for bot activity.
Yes! The streams generated in our program are guaranteed to generate real verifiable royalties. Also, we do not take any cut of the royalties you earn.
Nope! We work on a simple flat-fee basis and allow artists to keep everything they earn while working with us.
No. Since 2017 we have been building an extensive network of independent curators.
No. There are only so many slots available on the playlists, and our curators will not accept songs that are not studio quality.
If you submit a song and it is not accepted for whatever reason, you will be issued a refund.
Yup! The algorithm is looking for patterns in your audience to find who else they can connect you to. Any way you generate real listeners to your Spotify profile helps the algorithm understand where you fit.
You will receive a confirmation email when we receive your order. Once the order is processed your tracks should be fully placed in its playlists within 72 hours.